The Auckland suburb that inspired one of New Zealand's greatest artists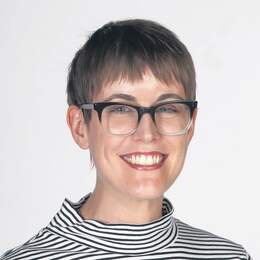 Colin McCahon has been compared to the likes of Jackson Pollock and Jasper Johns, and his modest former home provides an insight into his life and work.
Stepping out of the car at 67 Otitori Bay Road in the Auckland suburb of Titirangi, you notice two things: the forest, and the noise. The former is a thing of beauty, a sub-tropical palette of green and grey, lush with palms, ferns and kauri trees, a native species that can grow up to 50m tall. The latter is pretty wonderful, too: the hiss and hum of chirruping insects overlaid with birdsong; the sound of holidays and the summertime.
I'm here to visit the tiny cottage only just visible through the forest down a steep path leading from the kerb — the home of one of New Zealand's greatest artists, the modernist painter Colin McCahon.
These days, the late McCahon is best remembered for his large "word paintings" incorporating text and religious themes, as well as his abstract landscapes. The quality of his artistic achievements has been compared to post-war giants such as Mark Rothko, Jackson Pollock and Jasper Johns, and when one of McCahon's paintings sold for $NZ1.35 million, it set a new national record for the most expensive artwork sold at auction. He's even been described — albeit controversially — as "the Van Gogh of Australasia".
The artist's reputation belies the modesty of his former home, which is open to the public as a museum. McCahon moved to the harbourside suburb with his wife Anne (herself an artist) and their four young children in 1953, coming to Auckland understanding there was a job for him at what was then called the Auckland City Art Gallery. In a story that has taken on the aura of myth, McCahon turned up to find the only job available was as a cleaner, although he was soon promoted and later became the gallery's deputy director.
Money was tight for the McCahons and the house was both tiny and basic, with running water and electricity but no proper toilet. Stepping inside, it's hard to imagine that a family of six ever lived here. At first, husband and wife slept in a small porch and their children in a lean-to. McCahon later made various additions and improvements, including a downstairs bunk room for the kids.
Still, the move to Titirangi meant the family could be settled after a relatively peripatetic decade. The Titirangi years were also important in McCahon's development as an artist. He frequently depicted the kauri trees surrounding the house in his paintings, and some of his best-known works were produced during his time here. It was also during this time that he and Anne toured the US, a significant trip in terms of his creative development that allowed him to see major artworks he admired in person.
It's easy to see why McCahon found Titirangi so inspiring — there's something about the quality of the light pouring through the large windows, and the view over the forest beyond, that makes it seem ripe for creative work. The museum is small but nicely done, its mostly empty rooms fitted with cupboards that reveal written information including reproductions of letters along with recordings of the artist, his friends and colleagues.
For all his talent, McCahon's work was not always well understood or well received by the public and it seems he could be far from easy to live with. His eldest son William has described how he would vent his fury at criticism of his work on his family, and he is acknowledged to have been a long-term alcoholic. His drinking would contribute to a deterioration in his health and the onset of dementia prior to his death in 1987.
By this time, McCahon had long moved on from Titirangi — he and Anne sold the house in 1960 and it was eventually bought by the local council and donated to the charitable trust that now runs the museum.
Still, as we walk down Otitori Bay Road towards French Bay — where families are playing and paddling in the sunshine, just as they would have done in McCahon's day — I can't help but feel I've glimpsed not only a significant period of his life, but a distinctive era in New Zealand's history as well.
Fact File
The McCahon house is open Wednesday to Sunday from 1pm-4pm, or by appointment. It's about half-an-hour's drive from central Auckland. mccahonhouse.org.nz.
Disclaimer
Gemma Nisbet visited New Zealand as a guest of Azamara Club Cruises.
Categories