Our World

The Avon Valley town that's full of surprises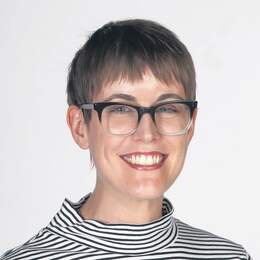 There's heritage, hospitality and intriguing architecture — not to mention a few welcome surprises — a couple of hours east of Perth in Beverley.
Driving into Beverley, about two hours east of Perth in the Avon Valley, everything is as I'd expected: paddocks and crops in shades of brilliant green, lambs still wobbly on their legs, canola beginning to bloom yellow.
Crossing the Great Southern Highway, the main street stretches towards the Avon River.
I've heard in advance about some of the architectural gems to be found here on Vincent Street. Scattered among the classic country bakery and the two historic pubs and the gift shop and the East End Gallery are the Art Deco town hall, the 1910 post office, the Victorian railway station and the former courthouse designed by George Temple Poole, the colonial-era architect known for buildings across WA including the Perth Mint and Perth's Old Treasury.
But no one told me about the structure that seems to hover, spaceship-like, on the corner.
Welcoming me to town is a white geodesic dome built in 1968, said to have been designed by American architect and futurist Buckminster Fuller.
Described as the Leonardo da Vinci of the 20th century, he was sufficiently famous to appear on the cover of Time magazine in 1964 and is remembered for popularising the geodesic dome and for his ideas about sustainability.

The dome is thought to be one of just a couple of such structures in Australia. Built to replace a service station destroyed by fire, it still sells fuel from the 24-hour pumps out the front.
It seems a fitting introduction to this charming little town, which will have more than a few additional surprises in store for me before the day is out.

One is the breadth of what's on offer. My guide for the day is Shire of Beverley president Dee Ridgway (pictured at top), a long-time resident originally from neighbouring Brookton, who promises I'll come away thoroughly "Beverley infused". As she tells me, the town has carved out a reputation for everything from motorsports (there are off-road motorsports and motocross clubs) to events such as the annual Beverley Show Day, which is on next Saturday and typically draws thousands of visitors.
Then there are its natural attributes: Dee particularly recommends a visit to County Peak (also known as Quajabin Peak) for the view over the Yenyenning Lakes.
On the artistic side, there are striking murals depicting animals such as sheep, a chicken and a kangaroo recently painted by Perth artist James Giddy on buildings along Vincent Street.
And there's the volunteer-run Beverley Station Arts, which stages exhibitions and shows ranging from comedy to ballet to music in the 1880s railway station and draws entries from around the State for the long- running Beverley Art Prize and Easter Art Exhibition.
The town has an aviation heritage: its airstrip is home to WA's biggest gliding club, the Beverley Soaring Society, and for some years its now-closed aeronautical museum displayed the Silver Centenary, a biplane built by local man Selby Ford in the late 1920s. The first privately built biplane in the State, it appears on the town's official crest.

Ford designed and built the aircraft with a friend, sketching out his plans in chalk on the floor of the local powerhouse, where he worked. Despite his lack of technical knowledge, the plane did fly and more recently was restored and flown by Ford's grandson.

A display telling the story of the Silver Centenary will be a part of what one local describes to me as Beverley's "piece de resistance": the Cornerstone, a new facility planned for Vincent Street which will bring together everything from office space to the Community Resource Centre and the library.
Scheduled for completion late next year, it's a major project for the town and a sign of its commitment to tourism — it'll include a new tourist bureau with a "taster-style" museum with information about the town's broad range of attractions. "That's the purpose of this building — to bring all of this together," Dee explains.
Keen to encourage more people to visit and hopefully stay a night or two, the shire's tourism initiatives encompass everything from a masterplan for local walking, driving and geocache trails to a plan to set up free wi-fi hotspots and produce an app for visitors.

Last year the shire established a free 48-hour stopping area for caravans near the Avon, and there's a shire- run caravan park in town with powered sites, a camping area, RV dump site, kitchen and an ablution block, all overseen by caretaker Janet ("a Beverley drawcard in herself", Dee says).
Then there's the town's new logo and slogan — "Be Very You", which plays on its name and the abbreviation (BE) that appears on local numberplates.
"Really what we're trying to do is just promote what we've already got," Dee tells me.
But there's plenty to see at the regular open days: historic buildings including the 19th century homestead and stables, a drive trail that includes the chance to learn about local agriculture and see the sheep and lambs, and an extensive machinery museum. The latter houses an impressive array of tractors and other machinery maintained by volunteers, including a bizarre-looking robotic shearing prototype dating from the early 1980s which, funnily enough, never became popular.
There's also a barbecue and picnic area, and some locals to meet: Moo the friendly emu (watch your jewellery) and Robbie and Comet the Clydesdale horses.
Another of the region's attractions is Avondale Discovery Farm, a heritage-listed property 6km from town on land granted in 1836 to WA's first governor, Capt. James Stirling, and the colony's first harbourmaster and auditor-general, Capt. Mark Currie.
The farm spent much of the 20th century as an agricultural research station and is now owned by the National Trust. To a certain extent, Avondale is a work in progress as efforts continue on projects such as improvements to a walking trail through the property's 52ha bushland reserve.
There are more friendly faces at our final stop, the Dead Finish Museum. We're met by three volunteers from the Beverley Historical Society, who are full of stories , notably about the museum's unusual name, a remnant from when this building (the oldest still standing in Beverley) was the Dead Finish Hotel.
As the story goes, sandalwood carters would take their wood to Guildford then head back to Beverley, stopping at pubs en route to drink their earnings.
This was the last pub — and thus "the dead finish". The museum started out as the Dead Finish Hotel Museum but, as one volunteer tells me, too many thirsty travellers popped by in search of a drink, so the "hotel" part was dropped.
There's plenty more I could tell you about Beverley, such as how the cellar in the Dead Finish Museum was once used for beer and bodies, makeshift morgue duties apparently being an early requirement of innkeepers' licences.
I could tell you how the town had its own newspaper until the 1970s and how the printing press used to produce the final editions of the Beverley Times is in the museum garden. I could tell you how Vincent Street has a Christmas lights competition and how native parrots flew alongside the car as we drove around Avondale.
I could tell you about the town's liberal scattering of historic churches, or the quirky, historic "Leaning Loo of Beverley" at the station gallery. But I think the last word should go to Dee: "We'd like to aim for people who visit Beverley to come and find and discover for themselves."
Fact File
The Beverley Show Day on August 19 will include children's activities, exhibitions, live music, fireworks, vintage cars, working dog displays, rides, equestrian events and more. Gates open at 9am and admission is $13 for adults and $6 for children to 15 years, with under fours free. beverleyagsociety.com
Accommodation options in Beverley include the Beverley Bed and Breakfast, the Hotel Beverley, the Freemasons Hotel and the caravan park. For more information, see beverleywa.com and beverley.wa.gov.au.
Avondale Discovery Farm will be open to the public on August 19-20, September 16-17 and 23-25, October 21-22 and November 18-19. Admission is free. avondale@ntwa.com.au or 0427 477 734. 
The Dead Finish Museum is open on Sundays between March and November or by arrangement. bhsdeadfinish@gmail.com.
Beverley Station Arts is open Thursdays to Sundays from 11am-3pm. For updates, find its Facebook page by searching "Beverley Station Arts".
Beverley's Visitor Information Centre is at the Community Resource Centre at 132 Vincent Street. It's open Monday to Friday from 8.30am-4pm.