Salzburg's Sound of Music: The hills are alive with nostalgia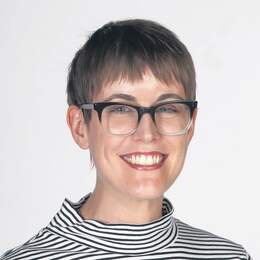 Sound of Music fans flock to stately Salzburg to experience some von Trapp family magic.
"Would you like to run through the tunnel," says Cristine, our local guide, with the smile of a woman who already knows the answer to her question.
The tunnel — more of an arbour covered in greenery — is in Salzburg's Mirabell Gardens, one of the most recognisable filming locations from The Sound of Music, featuring heavily in the sequence where Julie Andrews' Maria and the von Trapp children sing Do Re Mi. And given our Trafalgar tour group includes a super-fan who has been threatening to break into a musical medley for most of our trip, we all know the answer to Cristine's question, too.
Salzburg might be the picturesque birthplace of Mozart and the home of the famous Salzburg Festival of classical music and theatre — not to mention World Heritage listed for its graceful historic centre — but it's undoubtedly true that The Sound of Music is the major drawcard for many visitors who come here. An estimated 300,000 people a year visit landmarks connected to the film and to the real-life von Trapp family upon whom the story was based. There's the Nonnberg Abbey, where the non-fictional Maria was a postulant; the historic church in the nearby town of Mondsee, where Maria and Capt. von Trapp's wedding was filmed; even the real-life family's former home, which offers tours and accommodation.
However, one thing most fans visiting Salzburg won't see, beyond a cheeky glimpse through the front gate, is Schloss Leopoldskron.

It may not have featured in the film as such but this rococo palace has become inextricably linked with The Sound of Music, and is probably as close as you'll get to viewing the von Trapp family home in its cinematic form. The terrace and its horse statues and gates, for example, will be instantly familiar if you've seen the film — though those featured on screen were actually reproductions, having been recreated nearby. The scene where Maria and the children capsize in the lake was filmed here, while the gazebo made famous by the romantic encounter between oldest von Trapp daughter Liesel and the ultimately untrustworthy Rolf used to be located here (it's now at Hellbrunn Palace, south of Salzburg).
However, as with the city itself, there's a lot more to Schloss Leopoldskron than The Sound of Music. It was built from 1736 as a home for the Prince-Archbishop of Salzburg, Leopold Anton Freiherr von Firmian, a man otherwise best remembered for his expulsion of more than 20,000 Protestants from the city. He's responsible for the magnificent two-storey chapel, where his heart is buried beneath the floor (the rest of him is interred in Salzburg Cathedral).

Various other owners followed and the property was eventually bought in a state of disrepair in 1918 by Max Reinhardt. A theatre director who would go on to co-found the Salzburg Festival, Reinhardt staged productions in the house and its grounds, and was responsible for two of its most remarkable rooms: the Venetian Room and the library.

The former — all gilded wall panels, stucco ceilings, mirrors and a grand chandelier — played a round-about role in The Sound of Music, having been the model for the ballroom in the film. More recently, the Venetian Room — along with the rest of the first floor — formed a suitably lavish backdrop to Chanel's 2014 Metiers d'Art fashion show, attended by Rooney Mara and Lily Allen.
My favourite, though, is the library — a book-lover's daydream of wood panelling, leather armchairs and rows of books, all topped off with a set of chandeliers and an intricately decorated ceiling. There's even a secret doorway disguised as a bookshelf, which opens to reveal a narrow stairway leading up to Reinhardt's former bedroom, now converted into one of the palace's 12 suites.
A chance to see splendours such as these remains relatively exclusive; now operating as an historic hotel, Schloss Leopoldskron is open only to guests. But tonight that includes us — a stay at the property is included on some Trafalgar itineraries in Salzburg.

Our rooms are actually next door, in the Meierhof, the former palace administration building that now houses 55 surprisingly modern but very comfortable rooms. Guests staying here also get buffet breakfast served in the elegant Marble Hall of the palace, and are allowed free rein to explore its public rooms and grounds. As general manager Daniel Szelenyi tells us "because this has always been a private home, we treat it like that".
Daniel describes the schloss as a microcosm of local history, having been connected to many significant Salzburg events and identities since it was built. As the stories go, Mozart played one of the pianos here, Napoleon was hosted here and Austrian Emperor Franz Joseph and his bride-to-be Sissi had their engagement party here. This connection to Austrian history extends to its inglorious chapters: Reinhardt, who was Jewish, left the country after the Anschluss of 1938, and the property was later confiscated by the nazis. Reinhardt later became a US citizen and died in 1943 in New York.
After the war, the palace became home to the Salzburg Global Seminar, a non-profit group founded by some Harvard graduates as a "Marshall Plan of the mind" that now runs leadership programs on issues such as health care, education and sustainability (alumni include Marcel Marceau, Hillary Clinton and Kevin Rudd).
When the seminars are not in session, the hotel is operational. Trafalgar's involvement with the hotel is part of its Join Trafalgar sustainable tourism initiative, helping to support the care and periodic restoration of the historic property.
In the shorter term, though, we have something important to get done before the sun sets: photos of the horse gates and the lake and all the rest of it to satisfy the Julie Andrews fans among us. Which is to say — surely — all of us.
Cultural insights on the menu
Trafalgar chief executive Gavin Tollman admits that when he got a call from Liesa Bissett, his head of product development in Europe, to tell him they should start taking tours to visit a group of Catholic sisters living in southern Austria, he had doubts. "I thought she'd fallen on her head," he laughs.
However, it's distinctive experiences such as this that characterise Trafalgar's successful Be My Guest program. Included on most itineraries, they're food related but are as much about meeting the locals and gaining a cultural insight as having a meal.
Which isn't to say the food isn't good. Take our lunch with the sisters at Kloster Wernberg, a castle dating back to the 13th century or earlier that's been home to the Missionary Sisters of the Precious Blood since 1935. Not only is our lunch delicious but it incorporates produce grown in the abbey's gardens and bread made on site. Fish, eggs, dairy cows and honeybees are also farmed here, with some of the produce available in the abbey shop. There's a guesthouse and a kindergarten too.
Our visit is also a chance to meet some of the 60 or so sisters who live here (the youngest is about 50), and hear about some of the places the order has lead them — it has branches around the world and the sisters we meet have spent time everywhere from the Congo to Pennsylvania.
The castle itself has a rich history, as we learn during a guided tour, but it's ultimately the human details that interest me the most. For example, in the grand banqueting hall, which is decorated with stucco details and a gilded ceiling, one of our hosts opens a nondescript cabinet to reveal a small television set. This room is used for major events but it's also where the sisters watch TV — they like soccer, apparently.
A meal at Kloster Wernberg is included on Trafalgar's 13-day Switzerland and Austria tour.
How Trafalgar is going behind the scenes on its tours...
Fact File
 A two-night stay at Schloss Leopoldskron is included on Trafalgar's 10-day Sound of Music tour, which also includes visits to Munich, Oberammergau, Innsbruck, Mondsee, Vienna and more. It costs from $2275 per person. trafalgar.com or 1800 002 007
Schloss Leopoldskron comes under Trafalgar's banner of "Authentic Accommodation", a category of hotels, often with historic or cultural significance, that are included on selected trips. Others include Ireland's Ashford Castle, a Japanese ryokan and even a luxury junk boat in Vietnam's Halong Bay.
If you're travelling independently, stays at Hotel Schloss Leopoldskron start from €130 ($195) a night for a
single room or from €160 for a double. Rates include buffet breakfast, wi-fi, use of bicycles, parking and more. The property also hosts Shakespeare in the Park performances during summer, and will have its annual open day in November. Go to  schloss-leopoldskron.com.
Disclaimer
Gemma Nisbet was a guest of Trafalgar
Categories