The Silk Road: A taste of local life at Tashkent's farmer's market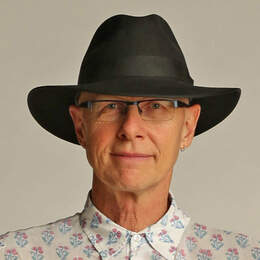 There are local flavours — and the freshest gossip — at Chorsu Bazaar in Tashkent, Uzbekistan.
People dress up for the bazaar. They buy bread peeled off the insides of an oven, from local wheat, clouding hot-bread scent, placed straight into their basket. Big bull's heart tomatoes, naturally ripened; the texture of a clenched muscle. Sugar in crystalline formations, sparkling like gemstones, called navat. Peanuts in sugar, called parvarda. Walnuts in big tubs. Sun-dried everything. Apricots, sultanas, currants, raisins.
"You can try everything ... taste everything as you go," says Anait Garaev, the local who has brought me to Chorsu Bazaar in Tashkent, Uzbekistan.
"And you also get the freshest gossip here."
Most days, stallholders go out to buy from farmers and bring the produce in. "The farmers have a lot of work to do. They cannot do this every day," explains Anait.
But this is Sunday. Sunday is different. Sunday is "peasant market", when farmers are given free space in the market, so they can come into the city and sell their produce direct.
There are many kinds of rice, which buyers scoop in small palmfuls to consider, and then discuss.
There are many sorts of vegetables, some little known to us, like a round eggplant which is sweeter. Chickpeas and spices; mountains of onions and garlic; elongated grapes.
And inside the bazaar, in a big food rotunda, many kinds of homemade cheeses. There is qatiq, an Uzbek milk soured to yoghurt; fetas and brined cheeses; qurut, the salted, small white balls of curd that are unique to this area, sometimes coloured with red pepper. Qurut, which will keep for a long time, can be traced back to the great camel caravans of the Silk Route — merchants and pilgrims who passed across this very spot.
For Chorsu Bazaar, in Tashkent Old City, itself dates to the Middle Ages, and some of the buildings in this area to the 16th century.
They stopped here for the bathhouses and teahouses, to trade and buy and eat.
Shashlik kebabs off a skewer. Uzbeki plov, a rice-and-carrot dish cooked in big cauldrons, with beef in summer, lamb for more warmth in winter.
That bread peeled from the inside wall of a tandoor oven.
"Local people eat a lot of bread," says Anait, and wheat and cotton remain Uzbekistan's most important crops.
"Chorsu" means "four courses", and the big pavilions of the bazaar sit at the junction of four roads, under blue domes.
After the food, other sections have handicrafts, clothing and souvenirs.
There are sozana embroideries, which are traditional Uzbek dowry gifts.
Later in the day, standing before the rather more beautiful ones at the exquisite and manageable Museum of Applied Arts in Tashkent, Anait will explain that the bride-to-be would send two sozanas to her future family, and every aspect of her personality could be seen in her sozana.
"Is she patient? This one is." Anait is looking at a very fine sozana, embroidered on silk. Looking at bigger patterns: "I think this one not so ..."
Women used to do the needlework themselves but now, according to Anait, there are "320 ladies in Samarkand, 290km away, making them for all the brides in Uzbekistan".
And sozanas weren't just for dowry. "It is not the Uzbek way to say what we feel," explains Anait. "A woman would not say to her husband 'Oh, I love you so much and will spend the rest of my life with you', but everything the wife wanted to express would be in her sozana."
Some would leave gaps in the pattern for following generations to add to the family story.
Back in the bazaar, the women are clearly joyful at being out on one of Uzbekistan's 350 sunny days a year; of being in their fine, shimmering Uzbek prints, the patterns of which, one legend says, mirror the shimmer of clouds in water; of enjoying the freshest gossip.
Tashkent at a glance
There are many parks in Tashkent, which are very pleasant to stroll in.
The Metro is easy to use and cheap, at about 25 cents a ticket.
Independence Square has its Independence Gate, gardens and sculptures and leads to the War Memorial, with lists of every name of Uzbeks killed in World War II, and its sculpture of a mother mourning a lost son.
The Tashkent TV Tower is 375m and has viewing levels and restaurants.
Tashkent Monument of Courage is dedicated to the 1966 earthquake.
Fact File
Travel Directors' Five Stans tour visits Kazakhstan, Kyrgyzstan, Tajikistan, Uzbekistan and Turkmenistan. There are three departures coming up this year, leaving on May 6 and 13, and September 2, plus departures in May and September next year. 
The 28-day tour costs from $17,750 per person twin share, and there is a $3650 single supplement. This includes all flights between Australia and Kazakhstan/Turkmenistan and Australia, all internal flights in Central Asia, all accommodation, all meals, highlights and surprises, Travel Directors tour leader, local guides, visas and gratuities. 
traveldirectors.com.au, 137 Cambridge Street, Leederville, 1300 856 661 and 9242 4200
Disclaimer
Stephen Scourfield was in Uzbekistan as a guest of Travel Directors.
Categories