Top five packing tips for a happy trip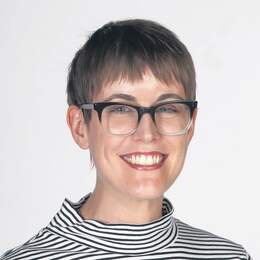 The fashion designer Diane von Furstenberg once said that "when you figure out your suitcase, you figure out your life".
After some years of travelling around Australia and the globe as a travel journalist, I've found the following maxim to be true: you can't pack heavy, happy and cheap — you must pick two.
This means that you can have lots of heavy bags and a happy face if you're prepared to fork out for taxis rather than lugging your cases on public transport, and for fees to check-in baggage on budget flights. And if you're planning a budget trip, you'll need to pack light to come out smiling at other end.
With that in mind, here are my top packing tips to ensure a happy, stress-free trip.
1. Get started early
Well in advance of your trip — perhaps a month out for a long holiday and a couple of weeks before departing for a shorter break — get out your suitcase and place it open on the floor in your bedroom. Then, as you think of things, drop them in the case. This will get you thinking about what you need to take, including gear you might need to buy before you go.

With the trip approaching, sit down and look through your itinerary. What kind of activities will you be doing? Will you need specialist gear, perhaps for hiking or other outdoor pursuits, or smart clothing for upmarket restaurant meals or formal occasions? Are there any cultural factors to take into consideration — modest dress for visiting religious sites or more conservative countries, for example?
Look up the long-range forecast to get a feel for the weather — this will guide not only what you take, but also how many changes of clothing you'll likely need (hot, sweaty climates will require more fresh clothing). Will you be able to wash clothes on the go, enabling you to pack lighter? (Incidentally, I don't bother packing laundry detergent for hand-washing in the hotel sink; the hotel shampoo does the trick.)
Your itinerary and travelling style will also dictate how much luggage you can comfortably take. The "unpack once" nature of cruising, for example, makes packing light less of an issue. But if you're moving around a lot, catching a lot of public transport such as buses or trains, or flying with budget carriers likely to sting you for checking in suitcases, keep your bags compact and light.
2. Make a list
Once you've worked out what you really need — making a list always helps — sort through the things you've been throwing in your case over the past couple of weeks and see what you can do without, and what you need to add. Sort everything into three piles: things you definitely need to take, things you don't, and a bunch of "maybes". Usually it's safe to do away with the latter.
Only take things you'll definitely use, and consider what works together and try to limit your colour palette. If an item of clothing doesn't work with at least three other things you're taking, you probably won't get enough wear out of it to justify bringing it.
Darker colours will show the dirt less but lighter colours will be cooler in hot climates. On African safaris, for example, khaki, beige and other muted tones will help you blend into the bush on game viewing drives and walks, while black and blue attract tsetse flies.
Plan to wear layers, and wear bulky items such as coats on the plane. Avoid packing jewellery — it's the kind of thing that's easily lost, damaged or stolen — and try to co-ordinate with your travelling companions; only one of you needs to bring a hairdryer, for example, if you decide you even need one at all. On the subject of toiletries, buy a kit of mini-bottles (from department stories or pharmacies) and decant large bottles.
3. Airline advice
If you're flying, check with your airline as to how many pieces you're allowed in your class of travel and how much they can weigh. Don't forget to check with any additional airlines, particularly budget carriers, you might be connecting with during your trip as their allowance might be less generous.
Domestic flights aren't generally subject to restrictions on liquids, gels and aerosols in your carry-on luggage unless they depart from an international terminal. For international flights, the rules apply and, if packed in your carry-on, these items must be in bottles no bigger than 100mL and stored in a plastic resealable bag, the sides of which add up to no more than 80cm (e.g. 20cm x 20cm). See travelsecure.infrastructure.gov.au.
Most airlines limit carry-on luggage to 7kg — check your carrier's rules in advance. For security and peace of mind, I always pack camera gear and my laptop, if I'm taking it, in my carry on. If you're carrying any spare batteries — such as those for your camera — you're required to pack them in your carry on. Essential medicines should also go in your carry-on bag.

If you haven't already, tie something to the outside of your case to help you identify it on the baggage carousel — a big bright ribbon or a distinctive strap. Also put a label with your name and a phone number (which will work at your destination) inside one of the zip-up pockets on the front of your bag in case your luggage tag is lost.
Lock checked bags — a padlock with a combination is more sensible than one with a key. If you're travelling to the US, use a Transportation Security Administration-approved model which authorities can open if need be (see tsa.gov).
4. Packing your case
Ensure your case is big enough and avoid squeezing everything into a too-small bag — your clothes will get more wrinkled in transit and you'll find it harder to find things in there once you arrive (meaning you'll have to unpack and repack at every stop, making you more likely to leave things behind). Plus there won't be room for new purchases acquired en route and the zips on your case will be more likely to break if it's overstuffed.
When it comes to packing the case, put heavy items such as your toiletries bag at the bottom near the wheels to ensure it's balanced correctly (I always double wrap my toiletries bag in a plastic shopping bag to guard against leaks).
You might like to use smaller fabric bags or mesh packing cubes to divide up different types of items — chargers and cables all together, for example. Many people suggest using small items such as underwear and socks to fill gaps but I prefer to put them in separate drawstring bags so they're easier to find.
If you're short on space, roll your clothes, otherwise I prefer to pack them folded flat — I find this makes for a more organised suitcase but it's really a matter of personal preference. Delicate items such as silk shirts can be folded in other clothing or in tissue paper to protect them, and placed on the top. Put shoes in the zip-up pocket inside the lid so they don't dirty other items.
5. A final piece of advice
A final piece of advice: if in doubt, leave it out. Unless you're going right off the beaten track you'll almost certainly be able to buy anything you've forgotten while you're away. After all, shopping can be one of the great pleasures of travel.