Traces of Captain Cook and Dracula in Whitby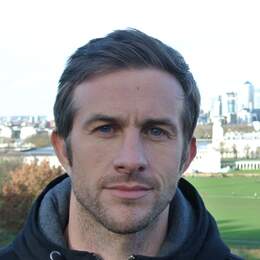 Whitby is one of England's most picturesque and atmospheric seaside towns, split in half where the River Esk meets the North Sea on the fringes of the North York Moors National Park. 
For the perfect panorama, get yourself up to Whitby's West Cliff.

A 15-minute hike from the Grade II-listed railway station, via a tangle of hilly, narrow, cottage-lined streets that spiral up from the harbour, this lofty vantage point is capped by neatly kept lawns, sprinkled with wooden benches for idling on and railings that you can lean against and absorb the salty aired surrounds, as seagulls soar past, squawking as they ogle people's picnics.
I linger up here for the best part of an hour. It's hard not to, so lovely are the views, especially on a warm (well, 22C) sunny day like today. Of all the postcard-pretty scenes, the one directly opposite is extra special, with jumbles of quaint red-roofed, harbour-front houses, a snug sandy beach and brightly painted sightseeing vessels ploughing along the water, while up above, speckling the town's East Cliff, are the Gothic ruins of Whitby Abbey.
Founded as a 7th century monastery, and later converted into a Benedictine Abbey, it fell into disrepair following King Henry VIII's Dissolution of the Monasteries, and was further weakened by the elements, with winter storms sporadically battering the coast. From the early 19th century, when Whitby emerged as a popular seaside resort, the abbey's evocative ruins became a tourist magnet, boosted by the publication of Bram Stoker's 1897 novel, Dracula.
Stoker had holidayed in Whitby earlier that decade — staying in a house on the West Cliff, as it happens — and in his story, the bloodthirsty count is shipwrecked off the North Yorkshire coast, before coming ashore and wreaking havoc in Whitby.
Now managed by English Heritage, the abbey still lures visitors, not least horror fans, who are happy to scale the 199 steps up the headland.
Upon arrival, some search in vain for Dracula's grave amid the tombstones clustered by the abbey's neighbouring St Mary's Church (some tourists occasionally have to be told that Dracula is a fictional character). On summer evenings, Stoker's story is performed live, with the ruins acting as an eerie backdrop.
Whitby certainly flaunts its Dracula connections — there are also guided ghost walks, fang-tastic attractions and vampish souvenir stores — but the town is equally proud of its links to a certain James Cook.
Indeed, perched by West Cliff's lookout is the mighty Captain Cook Memorial Monument. He's cast, in bronze, on a pedestal, usually with a gull sitting on his head.
Born in 1728, in the small North Yorkshire village of Marton, now a dormitory suburb of Middlesbrough, Cook learned his trade at a shipping firm in Whitby, which, back then, was a bustling coal and whaling port (near Cook's statue, incidentally, there is a replica of a whale's jaw bone originally installed in 1853).
Down at sea level, in Grape Lane, in Whitby's shop-cafe-and-eatery-filled old town, you'll find the Captain Cook Memorial Museum.
It's set in the house in which he lodged with his masters, the Walkers, a prominent Quaker ship-owning and coal merchant family.
Cook's fledgling years as a mariner saw him tackling the choppy waters of the North and Baltic Seas and the museum's current exhibition (until November 4) is titled Whitby in the Time of Cook: the making of a great seaman. 2018 marked the 250th anniversary of Cook's first voyage of the Pacific Ocean, which led, of course, to the "discovery" of Australia in 1770. He sailed there on HMS Endeavour, a ship built in Whitby (as was Resolution, which took Cook on his second and third Pacific journeys).
If you amble along Whitby harbour, past the fish-and-chip outlets, seafood restaurants and children dangling fishing lines in the water — "crabbing" has been enjoyed here for centuries — you'll likely see, among dozens of other fishing and leisure vessels, a replica of the Endeavour. Doubling as a floating museum-cum-pleasure boat, it offers cruises along the coast with commentary about Cook's engrossing maritime adventures.
You can also go for a pint in the nearby pub, Endeavour — one of Whitby's cosy, nautical-flavoured boozers. It's on Church Street, an anchor's throw from Cook's old lodgings.
(Top image: The ruins of Whitby Abbey. Picture: Steve McKenna)

Fact File
For more information on visiting Whitby and Yorkshire, including details of accommodation options, see visitwhitby.com and yorkshire.com 
Most trains to Whitby come via Middlesbrough, which has onward services to the likes of Manchester, York and Leeds. See nationalrail.co.uk for train times and connections. You can also travel to Whitby by heritage steam train on the North Yorkshire Moors Railway, which begins in the market town of Pickering. See nymr.co.uk