Experience the magic of India with Stephen Scourfield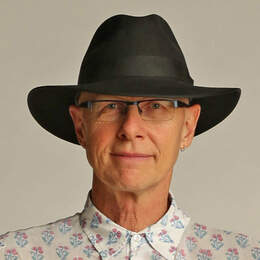 "It won't be a normal tour, an off-the-shelf experience, but a personal journey with me to one of the places I feel most comfortable, know best, love best."
If ever you've thought that you'd like to visit India, but been hesitant...

If ever you've been concerned that it might be too confusing, too confronting, or you might get sick...
If ever you've thought "but I'd love to go there just once" but not been sure who to go with...
Well, I'd like to suggest that this is the moment.
I'd like to take you to India.
And it won't be a normal tour, an off-the-shelf experience, but a personal journey with me to one of the places I feel most comfortable, know best, love best.
ABOUT THE ITINERARY
A lot of work has gone into the itinerary, to make it rich and full.
I've been keen that everything is included — particularly all meals, as I don't want my companions and new friends having to wander off and find their own food.
We have planned some great cuisine experiences, I think.
I have been working closely with my trusted friends at Holiday Planet, including principal Alan Dodson (yes, we've been there together, talking timing for each day, being very frank about what is and isn't worth including). And crafting the days and the overall pace and mood of the tour has been fun.
Getting the flow is a bit like writing a story. There will be the extraordinary moments — visiting the ghats in Delhi and hearing the Gandhi story; standing before the Taj Mahal; being on the beautiful lake in Udaipur, surrounded by white palaces; visiting the Amber Fort.
And there will be private moments, too — like one that we have planned for an evening in the Amber Fort — like private moments when I will bring to my companions more of the stories of India. And like a private concert that we will perform in Agra. I will be with a pre-eminent sitar player ... but I don't want to give away too much about that, yet.
But I will give away this ... that I was absolutely committed to us finishing at the Fateh Garh Hotel in Udaipur — a modern version of a palace on a hill overlooking this beautiful city. I love Fateh Garh. I love the area around Jagdish Temple in Udaipur, and Saheliyon Ki Bari — the Garden of the Maidens in Udaipur, with its dancing fountains.
I love India.
ABOUT THE COST
I've been keen that just about everything appears in the one price.
And, frankly, that everything that is included adds up to a quality experience.
You can do India on the cheap. And if you do, good luck with that.
This is India offered to you with a lot of support — with good hotels, chosen food venues, great guides, and with me alongside every step of the way.
This is, as my colleagues at Holiday Planet and I agree, premium India.
I've done India on the cheap — yes, I know how to do that — but I want to share thrilling and enthralling India with you in comfort.
WHY INDIA? WHY TRAVEL CLUB TOURS?
I'm often asked where my favourite place is. My first answer is always "where I am or where I've just been, as I am fully immersed in that culture", and it's true. But when pressed for an actual country, I find myself saying: "I'll go to India any day of the week."
And so it was that I chose India for our very first Travel Club Tour — because I know it so well, because I feel so comfortable and confident there, and because I really felt that I could bring something to a journey for the people travelling with me.
I'm just the sort of person that really wants to add more depth, value, explanation and real connection to a tour ... if I didn't, well, you wouldn't need me there.
After that came Oman and Madagascar — but India has called me back.
So many readers have said they've "always wanted to go there" but hesitated, and I'm very pleased to offer everyone the opportunity to see my India, with me.
We're off again, on a Travel Club Tour of India, in November. I'm thrilled.
I'm also delighted to be partnering with my friends at Holiday Planet, as I've really enjoyed working with their specialist India planners to make sure that the experience is full and yet very comfortable.
It's a pleasure to work with people who completely understand a destination and its culture, and are very careful in the detailed planning.
We've had a ball making what I think will be a really memorable trip.
You might have already picked up that after many, many visits to India, I'm really excited about this one. For me, Travel Club Tours are a bit like writing a story ... except that I am writing it, every day, for the people with me, making sure all the angles are covered.
There will be many highlights, and I don't want to spoil them. But I will be drawing on my friends in India to provide some events that, well, my companions on the trip will just never experience elsewhere or again.
All this is done, of course, with our comforts and safety first and foremost in mind. In terms of where we stay and how we stay, well ... I'm very much in charge of that, as I want the group to feel comfortable and get the most of their time in India.
And where are we going? Much as I like the odd and remote parts of India, it's clear to me that so many people want to visit the Gandhi sites of Delhi, ride in rickshaws through the laneways of its old town, visit the Taj Mahal and see the Amber Fort in Jaipur and see its block printers (yes – I will be getting shirts made), that it really has to be the Golden Triangle in Rajasthan.
But I have added in Udaipur, which is such a favourite for me. This beautiful city of white palaces set against the blue lake is thrilling. I just love it. And we will be staying at one of my favourite hotels in the world.
And I just love the position and atmosphere of it. But, once again, I won't spoil it.
I do hope you will want to join me in India. I'd go tomorrow ...