Arrivals & Departures

Virtual Culture Vulture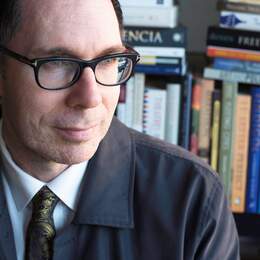 Stay at home and enjoy the best of the world's arts and culture for free, writes WILL YEOMAN

No matter where in the world we find ourselves, we love attending live concerts, opera, ballet and theatre. We love strolling around an art gallery, a museum or a famous garden or work of architecture. These things enhance not only our understanding of a place and a culture. They enrich our outer and inner lives beyond measure. They are a part of what it means to be human.
They also bring great solace in times of need. But for now, we're going to have to enjoy these activities from the safety and comfort of our homes. Luckily, some of the world's premier arts and culture organisations — including right here in Australia — have well-established websites and social media channels featuring virtual tours, extensive catalogues, sound and image archives and livestreaming.
That's why we've set up this Virtual Culture Vulture page. It will feature regularly updated news of forthcoming local, national and international livestreamed concerts, operas, ballets and theatre performances, as well as links to digital concert halls, video archives and virtual tours of art galleries, libraries, museums and more. Most are free.

CLASSICAL MUSIC & OPERA

The Tasmanian Symphony Orchestra's Daily Dose is the orchestra's "way of staying connected with audiences, supporters and friends during these virally challenged times." Every morning TSO will "post a clip, including excerpts from recent performances, interviews, show-and-tell demos, chamber music and tracks" from its extensive archive.
The London Mozart Players' LMP at Home offers "a daily stream of musical treats and live performances, as well as exclusive behind-the-scenes interviews and content for the whole family to keep the music playing through the pandemic."
Brussels' La Monnaie's Virtual Season, available to stream free until April 19, features superb performances of operas including Aida, Tristan und Isolde, Frankenstein, La Gioconda and more.
More early music (why not? It's almost always joyful and uplifting!), with the UK's Academy of Ancient Music introducing Streaming Sundays, with each performance (music by Handel, Bach, Purcell, Vivaldi and more) released 3pm (GMT) before being archived.
Many beautiful historically-informed performances of Baroque music, by composers such as Bach and Handel, from this year's European Early Music Day (March 21) are still available to watch here.
Bergen Philharmonic Orchestra's BergenPhilLive has an extensive concert archive to watch for free. I've just been enjoying Mozart's Violin Concerto No.5 with soloist Henning Kraggerud. Not only is the sound and video quality exceptional; the performance is graceful yet thrilling. And the music is, of course, sublime.
One of the world's great orchestras, the New York Philharmonic has launched NY Phil Plays On, featuring free-to-stream videos and sound recordings of recent and archival concerts.
Melbourne Digital Concert Hall (MDCH) is a digital concert hall run by Melbourne musicians, for Melbourne musicians, to support their fragile industry during the COVID-19 crisis. Their mission is to provide a means for local artists to continue their profession. In the coming weeks, the site will broadcast a range of concerts online with the support of presenting partner 5stream. Each will be performed once at a set time, just like a regular recital, and will be professionally video streamed at no cost to the musicians involved. The season opens March 27.
New York's Metropolitan Opera is offering free Nightly Opera Streams from their collection of HD presentations from the past 14 years.
At 7.30pm (WAST) every Saturday evening thereafter, West Australian Opera will release a Ghost Light Opera aria through its social media platforms. Artists include Emma Matthews, Fiona Campbell, Paul O'Neill and James Clayton, accompanied by pianist Tommaso Pollio. Visit WAO's website and Facebook page for more details.
The Berlin Philharmonic's Digital Concert Hall is hard to beat for its HD offerings of livestreamed and recorded concerts and operas, as well as a substantial catalogue of documentaries. I spent some of last weekend listening to former chief conductor Sir Simon Rattle's series pairing Brahms' four symphonies with Schumann's. As with televised sports, the camera can go where you can't, and it's amazing what you learn watching different sections of an orchestra play different passages close-up. The Digital Concert Hall is normally a paid subscription service. But if you redeem the code BERLINPHIL by March 31 you get free access to everything! Click on the link above to sign up and start watching!
Vienna State Opera is opening up its substantial livestream archive of opera videos for free. They're subject to specific screening times, so go here to get full details, programs and to sign up. Just one example: on March 26, you can enjoy a 2019 performance of Verdi's Tosca, conducted by Marco Armiliato and directed by Margarethe Wallmann, with Karine Babajanyan (Floria Tosca), Piotr Beczała (Mario Cavaradossi) and Carlos Álvarez (Baron Scarpia).
THEATRE, BOOKS & BALLET

Shakespeare's Globe, located on the banks of the River Thames, has a Globe Player through which you can watch, for a small price, a range of complete plays performed by this renowned theatre company. But there's plenty of free content too.
This podcast is pretty special. In each episode, "host LeVar Burton (Roots, Reading Rainbow, Star Trek) invites you to take a break from your daily life, and dive into a great story. LeVar's narration blends with gorgeous soundscapes to bring stories by Neil Gaiman, Haruki Murakami, Octavia Butler, Ray Bradbury and more to life."
For professional dancers and "the ballet curious", English National Ballet is offering free online ballet classes with Artistic Director Tamara Rojo.
Not free, but for c.$20AU a month (cancel anytime) Digital Theatre offers such a spectacular range of theatre, musical theatre, opera and ballet productions, as well as classical music performances, from UK's finest, including The Royal Shakespeare Company, Royal Opera House, The Old Vic, Almeida Theatre and Opera North that it's hard to resist. (I know I couldn't.)
Each Thursday, you can now watch acclaimed National Theatre Live productions for free. Streaming in April is One Man, Two Guvnors; Jane Eyre; Treasure Island; and Twelfth Night.
Australia Ballet's Ballet TV (pictured above) has few full-length ballets to watch but plenty of excerpts, interviews, behind-the-scenes documentaries and other material worth sinking your teeth into.
To mark World Theatre Day, London's Royal Court theatre is releasing a filmed version of David Ireland's play Cyprus Avenue starring Stephen Rea at 12 noon on Friday March 27 (UK time). film will be available to watch for free on the Royal Court website, Facebook, Twitter and YouTube pages for one month.
UK's Royal Opera House has launched a series of free "broadcasts and live content" streamed via their YouTube and Facebook channels. Works include the ballet Peter and the Wolf and Mozart's opera Cosi fan tutte. See here for full details and links.
MUSEUMS & GALLERIES

London's National Gallery has an online searchable gallery of more than 2,500 artworks from across their world-class collections.
Amsterdam's Rijksmuseum has a brilliant free resource, Rijks Studio, which enables you to explore, in super high-definition, one of the world's great art collections using pre-curated or self-curated tours.
London's museum of art and design the V&A has one of the world's most extensive collections of art and artefacts from every period of history. And it's right at your fingertips here.
Did you know New York's Guggenheim Museum Internet Archive has hundreds of exhibition catalogues and books (such as the one above) digitised and downloadable for free? Picasso, Klimt, Rothko, Kandinsky, Chagall, Calder and more are all here in blazing colour, accompanied by insightful, knowledgeable texts by some of the world's leading curators and art historians.
Madrid's Museo del Prado features sophisticated multi-layered, searchable contextual timelines and easy navigation of its extraordinarily rich collections of paintings, sculpture and other artefacts from across the centuries.
The University of Oxford's Ashmolean Museum of art and archaeology was founded in 1683. Its "world famous collections range from Egyptian mummies to contemporary art, telling human stories across cultures and across time". The museum has been busily digitising its collections and there are currently over 103,500 objects to explore on its online gallery.
The Uffizi Galleries, Florence: Yes, you can closely inspect individual artworks such as Botticelli's Birth of Venus and other famous works by artists like Leonardo, Caravaggio, Giotto, Raphael and more. Digitally speaking, of course. There is also a superb digital archive. But HyperVisions takes you on a host of compelling themed guided tours, combining selected artworks with informative written commentary. In the Light of Angels is especially beautiful. A must-visit.
The British Museum is one of the world's greatest museums, with vast collections of art and artefacts from countless cultures across the centuries. Their digital offerings are equally impressive. You can visit the galleries, explore the collection, take a virtual tour of its extensive range of prints and drawings and more.
Japingka Aboriginal Art Online is an extraordinary artistic and educational resource. All exhibitions can be viewed online, as can detailed artist biographies. There are essays, videos, resources for teachers and much, much more covering all aspects of Australia's and Torres Strait Island's rich and ancient heart.
New York's Metropolitan Museum of Art is one of the world's great art galleries and has an enormous range of online resources including virtual tours, exhibitions, catalogues, videos, essays, guides and more.
GARDENS, PARKS & ARCHITECTURE