Virtual Culture Vulture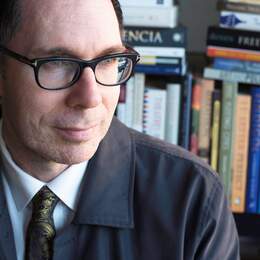 Stay at home and enjoy the best of the world's arts and culture for free, writes WILL YEOMAN

No matter where in the world we find ourselves, we love attending live concerts, opera, ballet and theatre. We love strolling around an art gallery, a museum or a famous garden or work of architecture. These things enhance not only our understanding of a place and a culture. They enrich our outer and inner lives beyond measure. They are a part of what it means to be human.
They also bring great solace in times of need. But for now, we're going to have to enjoy these activities from the safety and comfort of our homes. Luckily, some of the world's premier arts and culture organisations — including right here in Australia — have well-established websites and social media channels featuring virtual tours, extensive catalogues, sound and image archives and livestreaming.
That's why we've set up this Virtual Culture Vulture page. It will feature regularly updated news of forthcoming local, national and international livestreamed concerts, operas, ballets and theatre performances, as well as links to digital concert halls, video archives and virtual tours of art galleries, libraries, museums and more. Most are free.

CLASSICAL MUSIC & OPERA
Melbourne Digital Concert Hall is spreading its wings nationally, with satellite nights launched in Perth and Sydney, thanks to Kawai Australia, acclaimed singer Fiona Campbell and the Government House Foundation of WA. Much-loved singer Fiona Campbell has joined the MDCH team from Perth, spearheading an exclusive series recorded live for MDCH in the Government House Ballroom from Wednesday 13 May.The Sydney series kicks off on 20 May with tenor Andrew Goodwin, followed by the Australian Haydn Ensemble, all streamed live from the Kawai Studio in St Leonards. There are highlights in store in Melbourne, too.

The Royal Opera House is offering a free program of curated online broadcasts as part of its #OurHousetoYourHouse series. Full-length productions, musical masterclasses and glimpses behind the scenes can be seen for free any time, anywhere across the globe.
The Australian Symphony Orchestra is bringing you music in a new, personal way during the Coronavirus crisis with the ASO's Virtual Concert Hall. In this innovative series of mini-online recitals, ASO players introduce and perform music ranging from the sublime to the humorous, from much-loved classics to the less well-known. Specially produced solo performances by the ASO's musicians will be available to watch weekly on Wednesdays and Saturdays. The performances are available to be viewed for seven days.
Okay, so I'm stretching the definition of classical music and opera here. But isn't that what Andrew Lloyd Webber has always done? In his series The Shows Must Go On, you can watch some of his most acclaimed musicals for free, as well as bonus material. Oh, the Memories!
West Australian Opera is taking their singing classes online with a six-week virtual program that you can enjoy from home. The program has been designed to share the joy of music and keep you singing with Lisa Harper-Brown. Each Monday, a new video will be released (one video a week for six weeks). Lisa will focus on having fun as well as providing vocal and breathing techniques. You'll be able to take the lesson at your own leisure and re-watch as many times as you like.This series is free to registered participants via WAO website. The first classes will run from Monday 13 April to Monday 18 May.
The Australian Chamber Orchestra (ACO) has unveiled ACO HomeCasts, an extensive and innovative digital content season that will bring the music and musicians of the ACO into the homes of audiences and communities across Australia and abroad over the coming months, and beyond. ACO HomeCasts has been curated by ACO Artistic Director Richard Tognetti, who sees the digital season as an opportunity to engage with audiences in new and unexpected ways. The ACO will announce the content schedule for each week every Monday morning.
The Tasmanian Symphony Orchestra's Daily Dose is the orchestra's "way of staying connected with audiences, supporters and friends during these virally challenged times." Every morning TSO will "post a clip, including excerpts from recent performances, interviews, show-and-tell demos, chamber music and tracks" from its extensive archive.
The London Mozart Players' LMP at Home offers "a daily stream of musical treats and live performances, as well as exclusive behind-the-scenes interviews and content for the whole family to keep the music playing through the pandemic."
Brussels' La Monnaie's Virtual Season, available to stream free until April 19, features superb performances of operas including Aida, Tristan und Isolde, Frankenstein, La Gioconda and more.
More early music (why not? It's almost always joyful and uplifting!), with the UK's Academy of Ancient Music introducing Streaming Sundays, with each performance (music by Handel, Bach, Purcell, Vivaldi and more) released 3pm (GMT) before being archived.
Many beautiful historically-informed performances of Baroque music, by composers such as Bach and Handel, from this year's European Early Music Day (March 21) are still available to watch here.
Bergen Philharmonic Orchestra's BergenPhilLive has an extensive concert archive to watch for free. I've just been enjoying Mozart's Violin Concerto No.5 with soloist Henning Kraggerud. Not only is the sound and video quality exceptional; the performance is graceful yet thrilling. And the music is, of course, sublime.
One of the world's great orchestras, the New York Philharmonic has launched NY Phil Plays On, featuring free-to-stream videos and sound recordings of recent and archival concerts.
Melbourne Digital Concert Hall (MDCH) is a digital concert hall run by Melbourne musicians, for Melbourne musicians, to support their fragile industry during the COVID-19 crisis. Their mission is to provide a means for local artists to continue their profession. In the coming weeks, the site will broadcast a range of concerts online with the support of presenting partner 5stream. Each will be performed once at a set time, just like a regular recital, and will be professionally video streamed at no cost to the musicians involved. The season opens March 27.
New York's Metropolitan Opera is offering free Nightly Opera Streams from their collection of HD presentations from the past 14 years.
At 7.30pm (WAST) every Saturday evening thereafter, West Australian Opera will release a Ghost Light Opera aria through its social media platforms. Artists include Emma Matthews, Fiona Campbell, Paul O'Neill and James Clayton, accompanied by pianist Tommaso Pollio. Visit WAO's website and Facebook page for more details.
The Berlin Philharmonic's Digital Concert Hall is hard to beat for its HD offerings of livestreamed and recorded concerts and operas, as well as a substantial catalogue of documentaries. I spent some of last weekend listening to former chief conductor Sir Simon Rattle's series pairing Brahms' four symphonies with Schumann's. As with televised sports, the camera can go where you can't, and it's amazing what you learn watching different sections of an orchestra play different passages close-up. The Digital Concert Hall is normally a paid subscription service. But if you redeem the code BERLINPHIL by March 31 you get free access to everything! Click on the link above to sign up and start watching!
Vienna State Opera is opening up its substantial livestream archive of opera videos for free. They're subject to specific screening times, so go here to get full details, programs and to sign up. Just one example: on March 26, you can enjoy a 2019 performance of Verdi's Tosca, conducted by Marco Armiliato and directed by Margarethe Wallmann, with Karine Babajanyan (Floria Tosca), Piotr Beczała (Mario Cavaradossi) and Carlos Álvarez (Baron Scarpia).
THEATRE, BOOKS & BALLET
Sydney Opera House has been releasing a series of terrific full-length performances from their dance and ballet archives, as well as other genres, here.
MUSEUMS & GALLERIES

You can now take a virtual tour of The Long Kiss Goodbye at UWA's Lawrence Wilson Art Gallery, download the exhibition catalogue and engage with a host of other activities and resources.
GARDENS, PARKS & ARCHITECTURE
You can take a virtual reality stroll in Old Québec here.