WA roadtrips: Flowers for hours and smiles for miles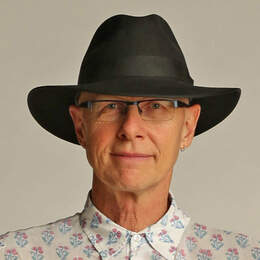 Travel editor Stephen Scourfield offers up his pick of roadtrips to find wildflowers along Australia's Coral Coast.
If there's a perfect time of year to be on the road exploring Australia's Coral Coast… well, surely this is it.

The wildflower season is upon us. Each year we watch to see how the season is shaping — and while that may help to define our plan, we can be sure that there's plenty else to see and experience.
I've just driven the whole lot, from Perth to the North West Cape, stopping in Geraldton, Kalbarri and Carnarvon, and been struck again by the beauty of the country and its subtle contrasts.
It's a good season for senna, eremophila and poverty bush. Smoke bush is not obvious most of the year, and then white and woolly… conospermum doing its thing.
There are spots where I've never seen the mulla mulla (Ptilotus) so big.
One star of the year is surely Sturt's desert pea, another will be wreath flowers.
And I just can't go past a green bird flower in Carnarvon.
BLOOMING BLOCKBUSTERS
Coalseam Conservation Park: Home to more than 300 species of native flowering plants, there's also the striped cliff faces that tell a 250- million-year story through siltstones, claystones and sandstones.
Flora ranges from flowering woody heath plants to pink, gold, cream and white everlastings, and orchids.
Lesueur National Park: This, with almost 900 species, ranks high on the world stage. For those who want to get seriously involved, there's "Drummonds", at the foot of Gairdner Range; a walk to the mesa of Mt Lesueur, an 8km round trip.
For those taking a more leisurely approach, Cockleshell Gully Road is an 18km bitumenised scenic drive with good views of the park. Look out for propeller banksias, magenta starflower, smoke bush, verticordias, hakeas, grevilleas and leschenaultias.
Kalbarri National Park: From now until November, some 800 species of native flora will progressively bloom around Kalbarri.
Work is going on in the park as the Skywalk is built, so check with the visitor centre when you arrive.
Shark Bay World Heritage Area: While the Shark Bay area is perhaps known more for its rather barren landscape, there are more than 700 species of flowering plants and one of WA's longest wildflower seasons.
Look for Shark Bay grevillea and the verticordia Shark Bay featherflower.
Cape Range National Park: The park covers more than 50,000ha, from the limestone ranges and deep canyons to 50km of beaches.
In it are some 630 species of flowering plants. This year you'll find Sturt's desert pea, mulla mulla, wattles, everlastings, native fuschias, fanflowers and dampiera. Get out and about in Mandu Mandu Gorge, Shothole Canyon, Charles Knife Canyon and Yardie Creek Gorge.
Badgingarra Nature Trail: This is a good 2km walk.
Look for smoke bush, purple star flower, yellow buttercups, banksias plus black, red and green kangaroo paws, one-sided bottlebrush, melaleucas and feather flowers.
Eneabba, Cervantes, Jurien Bay area: Be on the lookout for catspaw, various orchids, hakeas, wattle, yellow myrtle, smoke bush, droseras, dampiera, daviesia and native buttercups.
Nambung National Park: The Pinnacles are the big draw, of course, and not far behind is Lake Thetis, but the park's even more than that.
Look for flowering acacias, hibbertias, orchids, catspaws, blue tinsel lilies, myrtle, banksias and casuarinas.
DO-ABLE DRIVE DAYS
While the national parks and conservation areas are the key places to head for, road verges and reserves often have good wildflowers. Some really respond to disturbance and the water that tends to gather along roadsides, in particular.
It's all very well thinking "this is all a good idea" but what is a sensible plan? Start with the time you have available and then aim for some pleasant and do-able drive days.
FOUR ON THE FLOOR
Four-day drive
Day 1: Perth to Mingenew
Day 2: Mingenew to Geraldton
Day 3: Geraldton to Dongara- Denison
Day 4: Dongara-Denison to Perth
HIT FOR SIX
Six-day drive
Day 1: Perth to Cervantes
Day 2: Cervantes to Dongara- Denison
Day 3: Dongara to Kalbarri
Day 4: Kalbarri to Geraldton- Greenough
Day 5: Geraldton to Mullewa
Day 6: Mullewa to Perth
HEAVEN IN 11
11-day drive
Day 1: Perth to Geraldton
Day 2: Geraldton to Carnarvon
Day 3: Carnarvon to Exmouth
Day 4: Exmouth and surrounds
Day 5: Exmouth to Coral Bay
Day 6: Coral Bay to Shark Bay
Day 7: Shark Bay and surrounds
Day 8: Shark Bay to Kalbarri
Day 9: Kalbarri and surrounds
Day 10: Kalbarri to Mullewa
Day 11: Mullewa to Perth
With information from Australia's Coral Coast.
BEYOND THE BLOOMS
Flowers are all well and good but I have other highlights. There are roadside stops in the sun, chats with strangers at roadhouses, coffee at cafes, and some epic sights.
Among them…
Like many West Australians, I've been to the Pinnacles before.
But the oddness of this pocket of landscape still impresses me. As does the well laid-out and well-managed Nambung National Park itself.
Don't rush through Geraldton.
I like to take the "slow route" up Indian Ocean Drive, with time to walk among the grass trees, and then stay in Geraldton overnight and enjoy a morning walk on the beach.
The Coastal Cliffs of Kalbarri are epic, as is the river mouth.
At this time of year, I'm happily exploring back into the country, following the Murchison River.
From Carnarvon, there's easy access to the Kennedy Range but I've happily spent a few days around the town itself. Accommodation ranges from caravan parks and cabins to super fancy.
I like to potter around on Babbage Island, with its One Mile Jetty and big, red beach. And I love the produce of Carnarvon.

Exmouth has it all, from whale sharks (of course) to the colourful Cape Range National Park gorges.
My favourite spot at this time of year, might just be Mandu Mandu Gorge — a nice loop walk.
It was in a rock shelter in Mandu Mandu Creek the Mandu Mandu necklace was found. It consists of 22 small cone-shell beads, which have holes made in them. It is thought to have been made 32,000 years ago.
WHAT'S IN A NAME
Even place names in the Coral Coast region tell a story, a mix of Aboriginal history and British heritage.
Badgingarra
Using an Aboriginal word understood to mean "water by the manna gums", Alexander Forrest first named Badgingarra Pool in 1877.
It was then extended to the town site in 1955.
Mingenew
Said to come from an Aboriginal word meaning "place of many waters", Mingenew became a cattle area after being settled in the 1950s.
Samuel Pole Phillips and Edward Hamersley were key leaseholders.
Mullewa
A railway was built from Geraldton to Mullewa in 1894, with all eyes on this area for agriculture.
The town had been named after Mullewa Spring — "Mullewa" being an Aboriginal name first recorded by surveyor John Forrest in 1873.
Geraldton
George Grey had fully explored the area in 1839 but there's a reason Geraldton is set on Champion Bay.
Cdr D. Dring on the colonial schooner Champion was here in January 1840, and the bay was named by Royal Navy hydrographic surveyor J. L. Stokes.
Kalbarri
As far as the 1940s, Kalbarri was a popular tourist and fishing resort.
The State Government declared a town site in 1948, and the name was chosen from a list of Aboriginal words compiled by Daisy Bates in 1913.
Denham
Denham was originally known by Westerners as "Freshwater Camp".
But Denham Sound was officially named for Capt. Henry Mangles Denham, a Royal Navy surveyor who charted this part of Shark Bay on the HMS Herald in 1858, and the town derived its name from this.
It was the only place in Shark Bay with a good supply of fresh water.
Exmouth
The township of Exmouth was founded in 1963 to support the US Navy's Harold E. Holt Communications Station. It takes its name from Exmouth Gulf, to its east, which had been named by Cdr Phillip Parker King in 1818.
He chose this to honour Viscount Exmouth, Edward Pellew, a distinguished Royal Navy veteran.
Carnarvon
It is recorded that the Aboriginal name for this area is "Kow-win- wordo", understood to mean "neck of water."
But the town was officially named for the 4th Earl of Carnarvon, Henry Howard Molyneux, British secretary of state for the colonies 1866-67.
With information from the State Government of WA's Landgate.
Categories