Searching for Western Australia's North Pole in the East Pilbara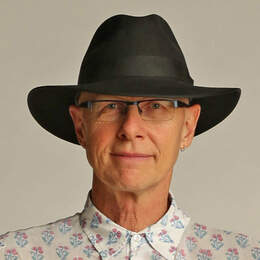 Strange but true: if you travelled back 800,000 years to when the Pilbara was part of a supercontinent, the magnetic North Pole would have been located at what is now a WA cattle station.
A few months ago, rough seas and a blizzard stopped me getting near the North Pole.
But now, here I am, standing at the North Pole, and it is a warm, sunny day in the East Pilbara.
While my voyage that few months ago was through Arctic Greenland, this has been much simpler.
I turned off the bitumen Marble Bar Road on to helpfully named North Pole Road and, well, here I am.
For the Earth's magnetic field has switched its polarity many times over the millennia.

At one stage, when south was north, the Pilbara was part of a supercontinent and the magnetic north pole has been identified as being just where I'm standing.
Since then, it has drifted north to where it is today, of course.
It is a pretty, gently sloping valley, dusted with spinifex.
A spokesperson for NASA — the US's National Aeronautics and Space Administration — explains that if I were alive about 800,000 years ago, and facing what we call north with a magnetic compass in my hand, the needle would point to "south".
"This is because a magnetic compass is calibrated based on Earth's poles. Reversals are the rule, not the exception.
"Earth has settled in the last 20 million years into a pattern of a pole reversal about every 200,000 to 300,000 years, although it has been more than twice that long since the last reversal."
Some geologists presume this was once a polar area, when Australia was hitched on to the ancient southern land mass Gondwana.
It is an old and complex part of geological history, showing Archean ocean-floor metamorphism, here in the Pilbara Craton.
But today, there are cattle being run on Panorama Station, on which the North Pole sits.
But, just for a moment, I'm a bit confused by the tracks, which are changed since the last time I was here.
I stop at temporary muster yards and stroll up to a young ringer who's hooking up a cattle trailer: " 'Scuse me, mate. Do you know where the North Pole is?"
He gives me that look. Comedian.
Categories