World's biggest ship offers something for everyone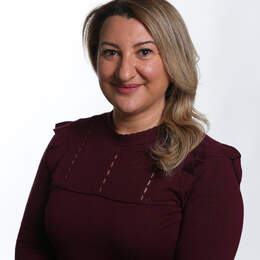 From grandparents to grandchildren, the ship brings to life "every family's wildest vacation dreams".
As a kid, if racing down slides and flying on swings had been Olympic sports, I would have been a gold medallist. I don't want to show off or anything, but let's just say my lack of fear in the playground could have led to world championships. Alas, it led only to Princess Margaret Hospital and plenty of stitches from head to toe. My poor parents.
So, as an adult cruising on the world's biggest ship just outside Barcelona, you can imagine the thoughts running through my head when I spot a bright orange slide ... in a suite designed especially for kids. It's just one of the many impressive features of Symphony of the Seas' 125sqm double-storey Ultimate Family Suite — "the only one in the world". As much as I want to play with absolutely everything (including air hockey, a giant Connect Four and a Luckey Climber vertical maze on the balcony), I resist the temptation and try to act like a grown-up — but I'm not going to lie: it's tough.
The luxuriously designed suites on this ship don't come cheap because guests are paying not just for extra space — one journalist points out the suites are bigger than her apartment — but also for VIP treatment, including a Royal Genie (an actual person) who ensures "you have everything you want, and more than you ever imagined". I want a genie.
I'm staying in an ocean view stateroom with a balcony and I'm more than happy with it. It's not fancy (and it's missing a giant slide) but, with its comfortable big bed, it serves its purpose and doesn't cost the Earth.
You won't want to spend much time in there anyway because Symphony of the Seas' 16 guest decks have everything families could want for a fun getaway in between shore excursions. From grandparents to grandchildren, there is something for everyone with the ship bringing to life "every family's wildest vacation dreams".
There are glow-in-the-dark laser tagging games, zip lining nine decks above ground, surf simulating, the tallest slide at sea (the 10-storey high Ultimate Abyss), rock-climbing walls, waterslides, a science lab and gaming arcades. Sports courts, mini golf and ice-skating. Real kids and those who are young at heart are spoilt for choice.
Dining options aplenty ensure all tastebuds are catered to on sea days. Dog House is an inexpensive and quick way for everyone to grab a bight to eat while enjoying the fun in The Boardwalk entertainment neighbourhood, which boasts a charming handcrafted carousel and an ice-cream and lolly store.
Fine dining, burgers, healthy meals or cafe culture — Symphony has it covered with more than 20 restaurants.
OK, so enough about families, what does Symphony offer child-free adults who want to go cruising? Firstly, there's lots of nightlife depending on your mood: from a quiet drink at the classy bars to having a laugh at the English pub; showing off your moves on the dance floor to watching a game in the sports bar.
Don't feel like being social? It's OK, curl up with a book in the library instead. Want to immerse yourself in the local culture? Sign up for a foreign language class. Want to create your own towel art? There's a lesson for that, too. Cooking, wine tasting, dancing, art — there are all sorts of classes.
Royal Caribbean has good reason to feel proud about this ship. Designers and engineers have taken into account energy efficiency to reduce its environmental impact. They didn't set out to create the world's biggest ship, it just evolved that way while creating more facilities and "phenomenal experiences" for guests. As they kept adding, the ship kept getting bigger, according to Royal Caribbean Cruises chairman Richard Fain.
Royal Caribbean International president Michael Bayley says the company is part of a serious business "but we don't take ourselves too seriously". It's a good attitude, especially when you're in the business of promising fun around the world.
The company also gives back to the places it visits to ensure that while guests have the freedom to travel, it is done sustainably and not at the expense of local communities.
Top image: The super-spacious two-storey Royal Loft Suite is the ultimate in luxury.
Fact File
PACKAGES: Symphony of the Seas has a seven-night Eastern Caribbean cruise departing Miami on January 19 with prices starting at $2079 for an interior stateroom; $2749 for balcony; and $5199 for junior suite. All prices are per person twin share. The Ultimate Family Suite costs from $21,169 per person quad share (averaged). The round-trip cruise visits Nassau (Bahamas), Charlotte Amelie (St Thomas) and Basseterre (St Kits and Nevi).
Disclaimer
Grace Millimaci was a guest of Royal Caribbean. They have not seen or approved this story.