Our World

Would you camp out in a giant meteorite crater?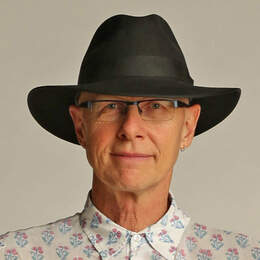 Tips for exploring top spots packed with amazing history in the East Pilbara.
I was here last year, driving up a running creek with a muddy bottom. The vegetation was closing in, it was getting dark, and I didn't really have a good idea where I was going.
Any of that could be a good enough reason to bail on the Punda valley in the Pilbara.
But that wasn't what made me turn around. It was more the sense that this was somewhere rare, to be savoured. The Punda rock art site was not to be spoilt by a quick, tricky and probably unsatisfactory drop-in.
It was somewhere to be researched and returned to. Somewhere to be considered enjoyed slowly, and shared.
It is just 65km from the Pilbara town of Newman, and easy to get to. And, just 10km from the Punda Aboriginal petroglyph site, is the Hickman meteorite crater.
And so it is, just over a year later, that I'm back ...
The team is together. Me and wife Virginia in my trusty, keep-it-simple LandCruiser Series 80, and Kings Park and Botanic Garden senior curator Grady Brand, and Kings Park director of horticulture and conservation Lesley Hammersley, in their HiLux.
In previous years, we've driven to Uluru, and travelled the Connie Sue and Anne Beadell highways in the Great Victoria Desert.
Grady and Lesley are on leave, but have a plant collecting list, as the botanical garden in Kings Park is a true reflection of the State's flora, and collecting seed and samples in the field is vital to its authenticity.

And, for Grady and me, it's an anniversary, as we first met and travelled together in the Pilbara exactly 20 years ago. It was the start of a remarkable friendship.
PUNDA ART SITE
We pass the spot on the track where I stopped before, and today it's easy. The creek is dry, the sun is shining, the sky is blue and there's a cool breeze.
We've picked up some guide notes and a sketched map from Newman Visitor Centre, and registered to use the BHP Billiton railway access road.
We've visited the Martumili artists at the East Pilbara Art Centre in Newman, as part of my preparation and education, and I've seen Nancy Taylor clapping her hands excitedly as she's told one of her excellent paintings has been bought.
And, after 28km on the sealed Marble Bar Road, we've turned on to the wide, graded gravel BHP road, followed this for 31km, and turned off on to a 13km track to the start of the Punda valley.
And now, after less than a kilometre up this narrower track that I stopped on last year, the country opens out again and I face a wall of rocks. Some boulders are as big as the LandCruiser, others are the size of a human torso. Which is precisely what I am looking at.
For there right in front of me, a petroglyph of a person is looking back. Immediately my eye is tuned in and I can see more human figures, spirit characters, boomerangs, kangaroos and emus, animal tracks and symbols used for waterholes and camps.
The petroglyphs are chipped into the rock, many with clear artistic intent. It is thought some may be more than 20,000 years old. The traditional country of Nyiyaparli people extends from Newman to the south of Marble Bar, and includes Roy Hill, Balfour Downs and Ethel Creek.
Punda is a brilliant art site in beautiful country — a stepping stone in the development of the human story. Unlike the much better-known Pilbara petroglyph site at the Burrup, it doesn't have modern industry breathing down its neck. Being in context, feeling remote, and the quality of the art itself makes it better to visit than the Burrup, I think.
In afternoon light, we head away from the valley and head north on a track to the Punda rock hole, driving a dry creek bed and weaving through paperbarks.
And then we return as the sun is dropping, the brown rock of the Hamersley Range against a ranging blue sky, but now with the spinifex a burning gold.
HICKMAN METEORITE CRATER
But we don't camp at Punda. A track leads less than 10km through the end of the Hamersley Range, past pebble mouse mounds, up rises and down rocky sections, past a conical hill of chocolate-coloured rock and blonde spinifex shimmering in the wind like a mirage to the Hickman meteorite crater.
Geological Survey Western Australia geologist Dr Arthur Hickman spotted this crater in the Hamersley Range in 2007 using Google Earth, and it has been named for him.
The 260m diameter crater is between 10,000 and 100,000 years old, but difficult to date.
In 2012, the Department of Mines, Industry Regulation and Safety and Atlas Iron worked together on a scientific project, sinking a 65m-deep drill hole. It found 48m of sediment, washed in after the crater was formed, and beneath that, nearly 7m of smashed up and melted rock. Under that is fractured bedrock. Chemical analysis revealed traces of material from an iron meteorite. The crater rim is about 80 per cent intact, and mainly of uplifted rhyolite.
Angular fragments of rhyolite are scattered up to 300m north of the crater.
It is thought that the meteorite was just 10m in diameter and there have been estimates that it could have weighed about 4000 tonnes, been travelling at least 11km per second before entering Earth's atmosphere, and exploded with an equivalent to 600,000 tonnes of TNT.
We walk the rim, explore the surrounding country and camp in the crater, careful that our impact is far less.
But its impact on me is enormous.
A visitor's book, which a Newman tour operator has left in a letterbox up on the rim, reveals relatively few callers. Most of them are from Newman — locals enjoying the country they live in, and I like that. One entry reads: "Few beers, some lunch, maybe something else," and a smiley face. It adds: "YOLO." Indeed, you only live once, Renee.
MARBLE BAR
We drive on to Marble Bar to stay at the place of one of Grady's other long-term friends — Denis O'Meara, who with son Damon co-founded Outback Trees of Australia, which has a base here. Denis is a great friend and supporter of Kings Park, and the influence of OTA is seen in the greening of Marble Bar and Nullagine as much as through its revegetation work on mine sites.
"You must sign the visitor's book," we are reminded. Denis, who was awarded an Order of Australia Medal for his service to the environment through native plant propagation and revegetation programs, to the mining industry, and to the Pilbara community, likes to have the book signed.
We do, and look back to our entries in 1998. Grady and I stayed here on that first trip together, when we met and became friends.