Young Travel Writer competition: And the winners are...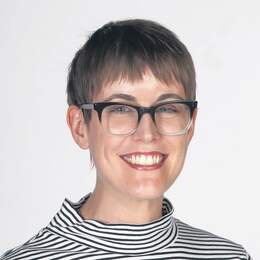 Announcing the two winners you'll join us on assignment in Shark Bay and Dirk Hartog Island. 
Tucked behind native shrubs down an access road in a corner of Kings Park and Botanic Garden is a building you probably never realised was there: an unobtrusive laboratory where some of WA's botanic treasures are preserved for posterity.
Among them: a seed bank maintained at -20 degrees that stores thousands of WA's 12,000-plus native plant species, and a deep freeze where rare plant material from dozens of threatened native species can be kept in liquid nitrogen for hundreds or even thousands of years.
"We're all about the study of native plants — the study, the conservation, the celebration," says Dr David Merritt, the Kings Park seed ecology expert and senior research scientist who is showing us around the Biodiversity Conservation Centre.
We're joined on this behind-the-scenes tour by Kings Park senior curator Grady Brand and the 10 high school students who've been named finalists in our Young Travel Writer competition: Kiriill Butler of Wesley College, Abbey Carson of Perth College, Emma Charteris of St Stephen's School, Tallulah Davison and Georgia Fields of Lesmurdie Senior High School, Emillie Foster of Peter Moyes Anglican Community School, Alannah Horton of Mt Lawley Senior High School, Harriet Keenan of Perth Modern School, Charlotte Scurry of Santa Maria College and Alexandra Ure of St Francis' School.
The tour is an insight into Kings Park's role in helping to protect WA's remarkable botanic diversity, and the young writers see some of the work in progress in spaces including the genetics lab, the tissue culture facility — which Dr Merritt describes as an "emergency ward for threatened species" — and in the outdoor nursery where plants for the park are grown.
The morning has also included a session with Sheryl Mauger, of Canon Australia, to introduce the finalists to the functions and features of their prize — a Canon SX60 camera, supplied by Canon Australia and Camera Electronic — followed by a travel writing workshop with me.
It's all a chance to sharpen their writing and photography skills, which two of them will hone further when they go on assignment to Shark Bay and Dirk Hartog Island next month with travel journalist Grace Millimaci and Renee Pearce, of Australia's Coral Coast tourism, which is sponsoring and arranging the trip.
Travel Editor Stephen Scourfield and David O'Malley, chief executive of Australia's Coral Coast tourism, presented the young writers with their finalists' certificates before the two winners were announced: Emillie Foster and Tallulah Davison. We'll bring you their impressions of the region soon.
Categories